At the beginning of my Dress Like a Diva…Shop Like a Tightwad seminar I ask the class, "What is the number one thing we can do at home, before we leave the house to go shopping, that will save us money?" Invariably, I get the same answer: "Make a list."? That's a great answer.? But how do you know what to put on your list?? After a few more guesses, someone will come up with some variation of "figure out what you have."
Exactly!?
That, my friends, is the answer.? If you don't know what you have, you can't know what you need.? If you don't know what you need, you'll buy things you don't, which is a grand waste of money.?
The quickest way to figure out what you need is to…(insert drumroll)… CLEAN OUT YOUR CLOSET!? Having a clean and?organized closet is the best way to ensure that you won't spend money unnecessarily.? It also provides you with other benefits, such as looking more stylish and put together.? Plus, you'll be happier when you open a closet filled with lots of things you love. (and remember are there)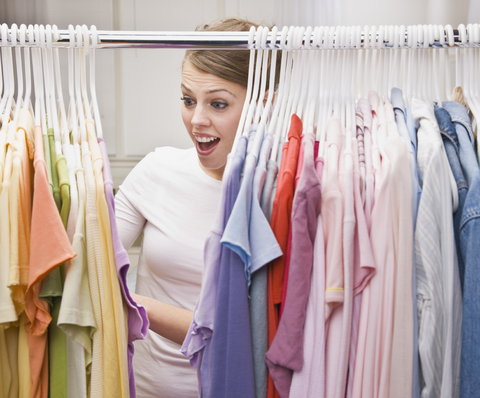 How many of us have a closet full of many different sizes of clothing?? It's not an empowering experience to be greeted?with every time we open our closet.?? No woman enjoys being reminded of when she was a size 6, if she is now a 14, or of when she was a 16, if she in now an 8.? I was discussing this "multiple size syndrome" one evening before teaching a class?with Jessie Garza, a well known stylist. ?He termed this as: "our closet mocking us."? Not exactly a welcome notion. For some reason though, we seem to have trouble letting go of those unnecessary items.??? Cleaning your closet will put an end to this "mocking."? The goal is to be confronted with a closet full of clothing that?you love, that fit correctly,?and?are stylish?and flattering –??every time you open the door.
When you clean your closet, you must commit to being ruthless with yourself.? This is not an excercise for WIMPS!? Do not attempt it on your own.?? The best route is to employ an image consultant who's familiar with this process and takes no prisoners.? If that doesn't appeal to you, the next best person is a sister, because she will not be likely to mince words to?spare your feelings.? If you don't have a sister, you'll have to settle for a friend, who agrees to be brutally honest with you.? Then…
1st Step – Take every single last item out of your closet and throw it on the bed.?? Yes! ?Then pick up each garment – one-at-a-time – and?decide which one of?three??piles it will go in:?
???????????????????Pile #1 is the throw away pile.? It's comprised of the things that no one will ever wear again.? Either it has holes, or stains, or cigarette burns.? It's faded or has bleach spots; let's face it, it a piece crap! ?Toss it!? And don't look back!
?????????????????? Pile #2 is the give away pile.? Maybe you?won't wear it again?for any?number of reasons, but it's still usable.? Either it's the wrong size, or it's no longer age appropriate, or it's no longer contemporary enough.? If you're 50 years old and that micro mini still fits…TOSS IT!? You're too damn old to be running around in a skirt up to your whosiwhatsis (I'm that age too, so I can say that).? Anything decorated with the Bedazzler, toss right out (the window).? Linebacker shoulder pads – fuggetaboutit!? Now there might be things in this pile that have sentimental memories attached. ?That's fine.? You don't have to give it away, but put it away in a special place, so that you can visit it when you want; not every time you open your closet.? The things in?Pile #2 you can?donate to charity or if new enough, bring them to a consignment shop for possible resale.
??????????????????????????? Pile # 3 should contain all you want to keep.? You should love these items, they should fit and should?be contemporary or able to be made so by adding a trendy accessory or some?small alterations.? And they should be age appropriate for you.?? Every single piece in this pile must be tried on to determine if it meets all of the criterior above.? This is where the help of a professional, sister, or friend is most important.? Try them on piece by piece?and be ruthless with yourself.? Remeber your goal!
Once you have tried every last?thing and decided what you're keeping, put the items back in the closet with the hanger hook facing outward instead of inward.? That way, if after 6 months it's still facing that way, you know it's not something that you like, want to wear, or need.? Get rid of it!
After this process maybe the only thing left in your closet is one white blouse. ?That's OK!? Now you know what you have and what you need.
This will definitely cut down on wasting money on unnecessary purchases.? Come back for my?future post about some techniques to help determine the correct styles for your particular body.? This will aid you further in 'restocking" your closet.
Until then, what item?in your closet makes you say "What was I thinking!?
For?closet consultations either in person or remotely, call Pamela at 800-808-4614.