Join us in Hell's Kitchen on a culinary jaunt around the world with scrumptious food tastings from thecuisines of Italy, Greece, Ethiopia, USA and more.
This area is literally steps from Times Square and chock full of those fabulous little restaurants,plus nightlife, and yes...even shopping! Your guide will lead you through NYC's famous(infamous) Hell's Kitchen neighborhood which has been transformed in recent years from the rough and tumble area that it's name depicts t to one of the hottest neighborhoods in NYC .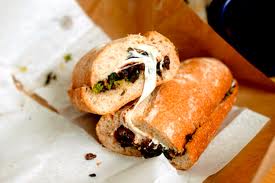 On this tour You'll taste foods from at least 6-7 venues while getting a history of the area... plus the skinny on all the best spots to visit on your own. The price of the food tastings are included in the price of the tour, however for a small extra charge you'll be able to taste beverages (some alcoholic) unique to the various cuisines. Another plus...Some of the places we visit and see along the way will also give special discounts to tour participants!
Please come hungry!, You will get enough food to satisfy your appetite
and serve as your lunch. We will visit 3-4 restaurants, a couple of cafes, bakeries and/or
markets*. We will get to sit down at many of the stops and others we will enjoy on our feet.

2 1/2 hour duration (approx)

Tours given Thursday, Saturday and Sunday 11:30am
Price: $75 per person
What you get:
--6- 7 food tastings from restaurants, bakeries & cafes..
-- Cultural history of the area
-- "Extra List" of restaurants, bars and shopping venues in the area to visit on yourown after the tour, many with discount offers.


Food Tours are Suspended for the Winter.

For more information on Tours, please call 800-808-4614.
You can combine the
International Food Tour with the Dessert Tour
at a Discount
Click the Book Now icon above & see pricing on our booking page.
*The venues we vistit may change without notice, but the number of stops will remain the same.